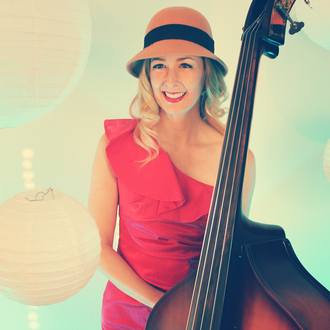 JANET EVRA
INDIE BOSSA / JAZZ
"Janet Evra delivers a fresh, romantic spin to the St. Louis music scene.
St. Louis Post-Dispatch
Janet Evra is an international jazz vocalist, bassist, songwriter and bandleader from England now based in St. Louis. 
Evra performs on premier stages across the USA and Europe, including jazz festivals and concerts in Sweden, Denmark, Romania, Switzerland, and Finland.  Evra has collaborated with GRAMMY winners and jazz superstars including Randy Brecker, Taylor Eigsti, Andrea Motis, Severi Pyysalo, Jeff Coffin, Roy "Futureman" Wooten, Yusa, Chad Lefkowitz-Brown, Sara Gazarek, Mohini Dey, Bob Reynolds, Tracy Silverman, Eric Marienthal, and Diego Figueiredo, as well as many St. Louis jazz legends.  She sings in English, Portuguese, Spanish, and French.
Evra has released two albums to critical acclaim.  Her music is played on hundreds of radio stations based in the USA, UK, France, India, and New Zealand.
Evra's third album "Hello Indie Bossa" is out NOW!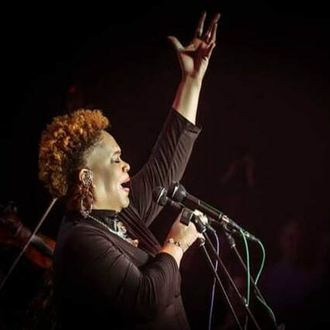 ANITA JACKSON
SOUL JAZZ / JAZZ
"Anyone who knows the premiere vocalists on the St. Louis music scene is well aware of the talents of Anita Jackson."
St. Louis Post-Dispatch
Anita Jackson is a St. Louis native and a St. Louis jazz legend, a beloved figure in the St. Louis music community.
Jackson lived in New York City for 12 years, performing and recording with Patti Austin, Mariah Carey, Chico DeBarge, and Erykah Badu among others.  Jackson was a background vocalist on Bette Midler's GRAMMY-winning track "From a Distance" and on Cissy Houston's GRAMMY-winning albums "Face to Face" and "He Leadeth Me."  She has performed in Uganda and Argentina as a featured missionary vocalist with New Hope for the World Ministries.
Jackson regularly headlines at top tier jazz clubs and music festivals across the greater St. Louis area, and she is an award-winning player with the St. Louis Black Repertory Theatre.
Jackson will release her debut album in 2022 on Plum Jazz.
PTAH WILLIAMS
Jazz/Straight Ahead
"Enjoy his marvelous ability at the keyboard."
Riverfront Times
Ptah Williams is a piano prodigy and virtuoso, a towering figure in the American straight ahead jazz tradition.
A son of St. Louis, Williams has toured internationally with Lou Donaldson and has recorded and/or performed with George Benson, James Moody, Randy Brecker, Eric Marienthal, and others. Williams performs hard-hitting swing, bebop, and fusion as a bandleader and as a first-call sideman in St. Louis and across the USA.
Williams is an Autumn Hill recording artist; a big thank you to Mike and Rob Silverman at Autumn Hill records for giving permission for Ptah's recording project with Plum Jazz!